Early or Premature Menopause
Menopause, whether natural or induced, is called premature when it happens at age 40 or younger. This occurs in about 1% of women in the United States. Premature menopause that is not induced can be genetic, metabolic, autoimmune, or the result of other poorly understood conditions. Premature menopause should be evaluated thoroughly.
INFORMATION FROM THE NORTH AMERICAN MENOPAUSE SOCIETY
Hot Flashes
The most common menopause-related discomfort is the hot flash (sometimes called a hot flush). Although their exact cause still isn't fully understood, hot flashes are thought to be the result of changes in the hypothalamus, the part of the brain that regulates the body's temperature. If the hypothalamus mistakenly senses that a woman is too warm, it starts a chain of events to cool her down. Blood vessels near the surface of the skin begin to dilate (enlarge), increasing blood flow to the surface in an attempt to dissipate body heat. This produces a red, flushed look to the face and neck in light-skinned women. It may also make a woman perspire to cool the body down. The heart may beat faster, and women may sense that rapid heartbeat.  A cold chill often follows a hot flash. A few women experience only the chill.
Most women experience hot flashes for 6 months to 2 years, although some reports suggest that they last considerably longer—as long as 10 years, depending on when they began. For a small proportion of women, they may never go away. It is not uncommon for women to experience a recurrence of hot flashes more than 10 years after menopause, even into their 70s or beyond. There is no reliable way of predicting when they will start—or stop.
Although the available treatments for hot flashes do not cure hot flashes, they do offer relief. Hot flashes usually fade away eventually without treatment, and no treatment is necessary unless hot flashes are bothersome. A few women have an occasional hot flash forever. There are a number of low-risk coping strategies and lifestyle changes that may be helpful for managing hot flashes, but if hot flashes remain very disruptive, prescription therapy may be considered. Prescription hormone therapy (HT) approved by the US Food and Drug Administration (FDA) and by Health Canada include systemic estrogen therapy (ET) and estrogen-progestogen therapy (EPT; for women with a uterus)—are the standard treatment. Another FDA-approved hormone product, for women with a uterus, combines estrogen with bazedoxifene instead of a progestogen. Bazedoxifene is an estrogen agonist/antagonist, which means that it works like estrogen in some tissues while inhibiting estrogen activity in others. In this case, it helps to protect the uterus from cancer.
For women who prefer not to take hormones or cannot hormones, nonhormone drugs approved to treat depression, called selective serotonin-reuptake inhibitors (SSRIs), have been found to be effective in treating hot flashes in women who don't have depression. The only SSRI FDA has approved thus far for treating hot flashes is paroxetine 7.5 mg.
INFORMATION FROM NORTH AMERICAN MENOPAUSE SOCIETY
Induced Menopause
Induced menopause refers to menstrual periods which stop after surgical removal of the ovaries, chemotherapy or radiation damage to the ovaries, or from the use of other medications to intentionally induce menopause as part of the treatment of certain diseases. Women who have induced menopause experience the hot flashes, vaginal dryness, trouble sleeping and other symptoms of menopause, but without the gradual onset of a natural menopause.
INFORMATION FROM THE NORTH AMERICAN MENOPAUSE SOCIETY
Intercystial Cystitis and Bladder Pain Syndrome
PELVIC PAIN
Pain is the hallmark symptom of IC/BPS, including sensations of pressure and discomfort, though it does not occur in everyone. Pain can also occur in the urethra, vulva, vagina, testicles, rectum and/or throughout the pelvis. It can also be referred to the lower back, upper legs and throughout pelvic floor muscles. Men may experience referred pain at the tip of their penis.
For patients with a bladder wall injury, pain can worsen as the bladder fills with urine especially after the consumption of irritating foods. Pain during urination is rarer and could be a sign of a urinary tract infection or tension in the urethral sphincter muscles. Pain after urination is, in our experience, more often associated with pelvic floor tension.
URINARY FREQUENCY
Urinary frequency is found in 92% of patients with IC/BPS. Patients may experience mild, moderate or severe urinary frequency of up to 60 times in a 24 hour period. With an injured bladder wall, patients may urinate and then feel another need to urinate, sometimes within minutes.
URINARY URGENCY
An estimated 84% of IC/BPS patients struggling with urinary urgency, a sudden need to empty their bladder to relieve pain and discomfort. In contrast, overactive bladder (OAB) patients struggling with urgency run to the restroom to avoid leakage and/or becoming incontinent. Some patients may struggle to get a good nights sleep due to a constant urge to urinate (nocturia).
NOCTURIA
Some patients struggle with excessive night time urgency, particularly patients with Hunner's lesions or bladder wall injury. They may feel a constant need to urinate every 30 minutes, 15 minutes or, for patients with severe symptoms, every five minutes. Sleep deprivation is a serious concern for these patients. Nocturia can also be the result of foods eaten during the day which have irritated the bladder.
PAIN WITH INTIMACY
Tight pelvic floor muscles and/or chronic pelvic floor dysfunction can cause pain with intimacy. In men, pain occurs at the moment of ejaculation. In women, pain can occur during penetration (intercourse) or in the 24 to 48 hours after sex.  Female sexual dysfunction is often present and can progress over time (6)  It's not unusual for patients to avoid sex or become fearful of sex. Thankfully, pelvic floor muscle treatment can improve sexual functioning dramatically.
PROSTATITIS LIKE SYMPTOMS
The pain and discomfort of chronic prostatitis (CP/CPPS), as well as symptoms of urinary frequency and incomplete emptying, are very similar to interstitial cystitis. In fact, some men have symptoms of both conditions. The American Urology Association encourages men who are struggling with pain perceived to be related to the bladder previously diagnosed with prostatitis be assessed for IC/BPS.
Osteoporosis
WHAT IS OSTEOPOROSIS?
Osteoporosis is a condition in which the bones become thin, brittle, and weak. These changes can increase the risk of fractures. Fractures can lead to disability. Fractures caused by osteoporosis have been linked to an increased risk of death.
IS OSTEOPOROSIS MORE COMMON IN WOMEN OR IN MEN?
Osteoporosis occurs five times more often in women than in men.
WHAT ARE SOME RISK FACTORS FOR OSTEOPOROSIS?
The following factors cause or contribute to osteoporosis and fractures:
Certain medications
Diseases such as inflammatory bowel disease, rheumatoid arthritis, and lupus
Low calcium intake
Vitamin D insufficiency
Excess vitamin A
High caffeine intake
High salt intake
Aluminum (in antacids)
Alcohol (three or more drinks per day)
Inadequate physical activity or being immobile
Smoking (active or passive)
Falling Being thin
WHAT IS THE LINK BETWEEN OSTEOPOROSIS AND MENOPAUSE?
Estrogen, a female hormone, protects against bone loss. After menopause, the ovaries produce very little estrogen. This decrease in estrogen triggers a period of rapid bone loss in women that starts 1 year before the final menstrual period and lasts for about 3 years. The natural effects of aging on bones may contribute to this bone loss as well.
WHAT ARE SOME SYMPTOMS OF OSTEOPOROSIS?
Osteoporosis may not cause any symptoms for decades. However, some signs and symptoms do occur as the disease progresses. As the spinal bones (vertebrae) weaken, they can fracture. Fracture in the front part of the spinal bones can result in loss of height or a slight curving of the spine. This type of spinal fracture often causes no pain. Sometimes, fractures of the spine can cause pain that travels from the back to the sides of the body.
WHAT IS A BONE MINERAL DENSITY TEST?
In a bone mineral density (BMD) test, bone density is measured at the heel, spine, hip, hand, or wrist. Several types of BMD tests are available. Dual-energy X-ray absorptiometry (DXA) of the hip and spine is considered to be the most accurate BMD test available.
WHO SHOULD HAVE A BMD TEST?
All women aged 65 years or older should have a BMD test. Women who are younger than 65 years and past menopause should have a BMD test if they have had a bone fracture because of fragile bones or have other risk factors for osteoporosis, such as rheumatoid arthritis, smoking, alcoholism, a history of hip fracture in a parent, or a body weight less than 127 pounds.
HOW IS A DXA SCAN DONE?
During a DXA scan, you lie down for 3–10 minutes while a machine scans your body. With this test you are exposed to a small amount of radiation—less than the amount in a normal chest X-ray.
WHAT DO DXA SCAN RESULTS MEAN?
After the test, a T-score is given for each site measured. A negative score means that you have thinner bones than an average 30-year-old woman. A positive score means that you have stronger bones than an average 30-year-old woman. If the T-score at any site is -1 to -2.5, you have a low BMD and are at increased risk of osteoporosis. A score of -2.5 or lower means that you have osteoporosis. Treatment usually is recommended to prevent fractures.
HOW OFTEN SHOULD I HAVE A BMD TEST?
How often you should have your BMD measured depends on your age and results of your previous DXA scan. Women 65 years and older with normal bone mass or mild bone loss can have a test every 15 years. More frequent testing is recommended for women in this age group with T-scores between -1.5 and -2.49.
WHAT IS FRAX?
FRAX is a tool used to estimate fracture risk. This computer program helps predict the risk of having a fracture within the next 10 years in women aged 40 years and older who are not taking prescription osteoporosis drugs.
HOW DOES FRAX ESTIMATE FRACTURE RISK?
FRAX takes into account your age, sex, body mass index, smoking, alcohol intake, and other risk factors for osteoporosis. Treatment is recommended if FRAX shows that you have a 3% risk of hip fracture; a 20% risk of a major osteoporotic fracture (fracture of the forearm, shoulder, or spine); or both. FRAX also is used to decide whether women younger than 65 years should have a DXA test.
WHAT TREATMENT IS AVAILABLE FOR OSTEOPOROSIS?
Various medications are used to treat osteoporosis and help reduce the risk of fractures. Some can be used for prevention.
HOW CAN OSTEOPOROSIS BE PREVENTED?
Lifestyle plays a key role in preventing osteoporosis. Exercise, a healthy diet, and not smoking can help keep your bones strong and healthy throughout your life.
WHEN IS THE BEST TIME TO START TAKING CARE OF MY BONES IN ORDER TO PREVENT OSTEOPOROSIS?
It is never too early to start thinking about bone health. Good bone health should start during childhood. This is the time to focus on building and keeping as much bone as you can through exercise, good nutrition, and staying healthy.
HOW CAN EXERCISE HELP PREVENT OSTEOPOROSIS?
Exercise increases bone mass before menopause and slows bone loss after menopause. Bone is living tissue and exercise makes it grow stronger. The Centers for Disease Control and Prevention recommend that healthy adults get 150 minutes of exercise a week, which works out to be about 30 minutes on most days of the week.
WHAT TYPES OF EXERCISES HELP PREVENT OSTEOPOROSIS AND BONE FRACTURE?
Weight-bearing exercises can help keep bones strong. Weight-bearing exercises are activities that are performed while standing and that require your muscles and bones to work against gravity. An example is brisk walking. Non-weight-bearing exercises, such as Tai Chi, Yoga, and Pilates, can build endurance and improve balance and posture, thereby reducing your risk of falls. Strength training also is good for bones. In this type of exercise, muscles and bones are strengthened by resisting against weight, such as your own body, an exercise band, or handheld weights.
HOW DO CALCIUM AND VITAMIN D HELP BUILD HEALTHY BONES?
Calcium is important to building and maintaining healthy bones. Vitamin D helps the body absorb calcium. Many people do not get enough calcium from food. To increase your daily levels of calcium, eat a variety of calcium-rich foods. Good sources of calcium include dark, leafy greens, like spinach, kale, and collards; dairy foods, such as yogurt, milk, and cheese; and canned fish with soft bones, including salmon and sardines. You can increase your intake of vitamin D by eating foods fortified with vitamin D (orange juice, cereal, and milk). You also can get vitamin D by being in the sun for 15 minutes a few days a week.
INFORMATION FROM ACOG
Menopause
WHAT IS MENOPAUSE?
Menopause is the time in your life when you naturally stop having menstrual periods. Menopause happens when the ovariesstop making estrogen. Estrogen is a hormone that helps control the menstrual cycle. Menopause marks the end of the reproductive years. The average age that women go through menopause is 51 years.
WHAT IS PERIMENOPAUSE?
The years leading up to menopause are called perimenopause. Beginning in your 30s and 40s, the amount of estrogen produced by the ovaries begins to fluctuate. A common sign of perimenopause is a change in your menstrual cycle. Cycles may become longer than usual for you or become shorter. You may begin to skip periods. The amount of flow may become lighter or heavier. Although changes in menstrual bleeding are normal during perimenopause, you still should report them to your health care provider. Abnormal bleeding may be a sign of a problem.
BESIDES MENSTRUAL CYCLE CHANGES, WHAT OTHER SIGNS AND SYMPTOMS CAN OCCUR DURING PERIMENOPAUSE?
Some women do not have any symptoms of perimenopause or have only a few mild symptoms. Others have many symptoms that can be severe. Common signs and symptoms include the following:
Hot flashes—A hot flash is a sudden feeling of heat that rushes to the upper body and face. A hot flash may last from a few seconds to several minutes or longer. Some women have hot flashes a few times a month. Others have them several times a day. Hot flashes that happen at night (night sweats) may wake you up and cause you to feel tired and sluggish during the day.
Sleep problems—You may have insomnia (trouble falling asleep), or you may wake up long before your usual time. Night sweats may disrupt your sleep.
Vaginal and urinary tract changes—As estrogen levels decrease, the lining of the vagina may become thinner, dryer, and less elastic. Vaginal dryness may cause pain during sex. Vaginal infections also may occur more often. The urethra can become dry, inflamed, or irritated. This can cause more frequent urination and increase the risk of urinary tract infections.
WHAT TYPES OF BONE CHANGES CAN OCCUR AFTER MENOPAUSE?
A small amount of bone loss after age 35 years is normal for both men and women. But during the first 4–8 years after menopause, women lose bone more rapidly. This rapid loss occurs because of the decreased levels of estrogen. If too much bone is lost, it can increase the risk of osteoporosis. Osteoporosis increases the risk of bone fracture. The bones of the hip, wrist, and spine are affected most often.
WHAT OTHER HEALTH RISKS INCREASE DURING PERIMENOPAUSE AND MENOPAUSE?
The estrogen produced by women's ovaries before menopause protects against heart attacks and stroke. When less estrogen is made after menopause, women lose much of this protection. Midlife also is the time when risk factors for heart disease, such as high cholesterol levels, high blood pressure, and being physically inactive, are more common. All of these combined factors increase the risk of heart attack and stroke in menopausal women.
WHAT IS HORMONE THERAPY?
Hormone therapy can help relieve the symptoms of perimenopause and menopause. Hormone therapy means taking estrogen and, if you have never had a hysterectomy and still have a uterus, a hormone called progestin. Estrogen plus progestin sometimes is called "combined hormone therapy" or simply "hormone therapy." Taking progestin helps reduce the risk of cancer of the uterus that occurs when estrogen is used alone. If you do not have a uterus, estrogen is given without progestin. Estrogen-only therapy sometimes is called "estrogen therapy."
HOW IS HORMONE THERAPY GIVEN?
Estrogen can be given in several forms. Systemic forms include pills, skin patches, and gels and sprays that are applied to the skin. If progestin is prescribed, it can be given separately or combined with estrogen in the same pill or in a patch. With systemic therapy, estrogen is released into the bloodstream and travels to the organs and tissues where it is needed. Women who only have vaginal dryness may be prescribed "local" estrogen therapy in the form of a vaginal ring, tablet, or cream. These forms release small doses of estrogen into the vaginal tissue.
WHAT ARE THE BENEFITS OF HORMONE THERAPY?
Systemic estrogen therapy (with or without progestin) has been shown to be the best treatment for the relief of hot flashes and night sweats. Both systemic and local types of estrogen therapy relieve vaginal dryness. Systemic estrogen protects against the bone loss that occurs early in menopause and helps prevent hip and spine fractures. Combined estrogen and progestin therapy may reduce the risk of colon cancer.
WHAT ARE THE RISKS OF HORMONE THERAPY?
Hormone therapy may increase the risk of certain types of cancer and other conditions:
Estrogen-only therapy causes the lining of the uterus to grow and can increase the risk of uterine cancer.
Combined hormone therapy is associated with a small increased risk of heart attack. This risk may be related to age, existing medical conditions, and when a woman starts taking hormone therapy.
Combined hormone therapy and estrogen-only therapy are associated with a small increased risk of stroke and deep vein thrombosis. Forms of therapy not taken by mouth (patches, sprays, rings, and others) may have less risk of causing deep vein thrombosis than those taken by mouth.
Combined hormone therapy is associated with a small increased risk of breast cancer.
There is a small increased risk of gallbladder disease associated with estrogen therapy with or without progestin. The risk is greatest with oral forms of therapy.
CAN OTHER MEDICATIONS HELP WITH MENOPAUSE SYMPTOMS?
An antidepressant is available for the treatment of hot flashes. Gabapentin, an antiseizure medication, and clonidine, a blood pressure medication, are prescription drugs that can be prescribed to reduce hot flashes and ease sleep problems associated with menopause. Selective estrogen receptor modulators are drugs that act on tissues that respond to estrogen. Two drugs containing selective estrogen receptor modulators are available for the relief of hot flashes and pain during intercourse caused by vaginal dryness.
CAN PLANT AND HERBAL SUPPLEMENTS HELP WITH MENOPAUSE SYMPTOMS?
Plants and herbs that have been used for relief of menopause symptoms include soy, black cohosh, and Chinese herbal remedies. Only a few of these substances have been studied for safety and effectiveness. Also, the way that these products are made is not regulated. There is no guarantee that the product contains safe ingredients or effective doses of the substance. If you do take one of these products, be sure to let your health care provider know.
CAN BIOIDENTICAL HORMONES HELP WITH MENOPAUSE SYMPTOMS?
Bioidentical hormones come from plant sources. They include commercially available products and compounded preparations. Compounded bioidentical hormones are made by a compounding pharmacist from a health care provider's prescription. Compounded drugs are not regulated by the U.S. Food and Drug Administration. They have the same risks as hormone therapies approved by the U.S. Food and Drug Administration, but they also may have additional risks because of the way they are made. There is no scientific evidence that compounded hormones are safer or more effective than standard hormone therapy.
CAN VAGINAL MOISTURIZERS AND LUBRICANTS HELP WITH MENOPAUSE SYMPTOMS?
These over-the-counter products can be used to help with vaginal dryness and painful sexual intercourse that may occur during menopause. They do not contain hormones, so they do not have an effect on the vagina's thickness or elasticity. Vaginal moisturizers replace moisture and restore the natural acidity of the vagina and can be used every 2–3 days as needed. Lubricants can be used each time you have sexual intercourse.
WHAT CAN I DO TO STAY HEALTHY AFTER MENOPAUSE?
A healthy lifestyle can help you make the best of the years after menopause. The following are some ways to stay healthy during midlife:
Nutrition—Eating a balanced diet will help you stay healthy before, during, and after menopause. Be sure to include enough calcium and vitamin D in your diet to help maintain strong bones.
Exercise—Regular exercise slows down bone loss and improves your overall health. Weight-bearing exercise, such as walking, can help keep bones strong. Strength training strengthens your muscles and bones by resisting against weight, such as your own body, an exercise band, or handheld weights. Balance training, such as yoga and tai chi, may help you avoid falls, which could lead to broken bones.
Routine health care—Visit your health care provider once a year to have regular exams and tests. Dental checkups and eye exams are important, too. Routine health care visits, even if you are not sick, can help detect problems early.
INFORMATION FROM ACOG
Menopause and Hormone Therapy
Hormone therapies are the prescription drugs used most often to treat hot flashes and genitourinary syndrome of menopause (GSM), which includes vaginal dryness, after menopause. For hot flashes, hormones are given in pills, patches, sprays, gels, or a vaginal ring that deliver hormones throughout the body—known as "systemic" therapy. For genitourinary symptoms, hormones are given in creams, pills, or rings that are inserted into the vagina. (An approved pill is also available to treat genitourinary symptoms that is not considered a hormone but does affect estrogen receptors, mostly in and around the vagina.)
Systemic hormones include estrogens—either the same or similar to the estrogens the body produces naturally—and progestogens, which include progesterone—the progestogen the body produces naturally—or a similar compound. Another approach to systemic hormone therapy is a pill that combines conjugated estrogens (those in the brand Premarin) and a compound known as a "SERM" (selective estrogen receptor modulator) that protects the uterus but is not a progestogen. Women who have had a hysterectomy (had their uterus or womb removed) can use estrogen alone to control their hot flashes. Women who still have a uterus or womb need to take a progestogen in addition to estrogen or the estrogen-SERM combination to protect against uterine cancer. Systemic hormones are very effective for hot flashes and have other benefits, such as protecting your bones. They also carry risks, such as blood clots and breast cancer. The breast cancer risk usually doesn't rise until after about 5 years with estrogen-progestogen therapy or after 7 years with estrogen alone.
Vaginal estrogen therapy for GSM after menopause is administered in the vagina and is effective for both moisturizing and rebuilding tissue. Very little goes into blood circulation, so the risks are far lower.
You should discuss your individual risks and preferences with your healthcare team to determine whether hormone therapy or alternatives, including FDA-approved nonhormonal therapies, are right for you.
INFORMATION FROM NORTH AMERICAN MENOPAUSE SOCIETY
Pain with Sex
HOW COMMON IS PAINFUL SEX?
Pain during intercourse is very common—nearly 3 out of 4 women have pain during intercourse at some time during their lives. For some women, the pain is only a temporary problem; for others, it is a long-term problem.
Female Pelvic Anatomy
The internal female reproductive organs and the external female genitals.
WHAT CAUSES PAIN DURING SEX?
Pain during sex may be a sign of a gynecologic problem, such as ovarian cysts or endometriosis. Pain during sex also may be caused by problems with sexual response, such as a lack of desire (the feeling of wanting to have sex) or a lack of arousal (the physical and emotional changes that occur in the body as a result of sexual stimulation).
WHERE IS PAIN DURING SEX FELT?
You may feel pain in your vulva, in the area surrounding the opening of your vagina (called the vestibule), or within your vagina. The perineum is a common site of pain during sex. You also may feel pain in your lower back, pelvic region, uterus, or bladder.
WHEN SHOULD I SEE A HEALTH CARE PROFESSIONAL ABOUT PAINFUL SEX?
If you have frequent or severe pain during sex, you should see an obstetrician–gynecologist (ob-gyn) or other health care professional. It is important to rule out gynecologic conditions that may be causing your pain. Your ob-gyn or other health care professional also can help you address problems with sexual response.
WHAT CAUSES SEXUAL RESPONSE PROBLEMS?
The following reasons are among the most common:
Your state of mind—Emotions such as fear, guilt, shame, embarrassment, or awkwardness about having sex may make it hard to relax. When you cannot relax, arousal is difficult, and pain may result. Stress and fatigue can affect your desire to have sex.
Relationship problems—Problems with your partner may interfere with your sexual response. A common relationship issue is a mismatch between partners in their level of desire for sex.
Medications—Many medications can reduce sexual desire, including some birth control methods. Many pain medications also can reduce sexual desire.
Medical and surgical conditions—Some medical conditions can indirectly affect sexual response. These conditions include arthritis, diabetes, cancer, and thyroid conditions. Some women who have had surgery find that it affects their body image, which may decrease their desire for sex.
Your partner—If your partner has a sexual problem, it can make you anxious about sex. If your partner is taking a drug for erectile dysfunction, he may have delayed orgasm, which can lead to long, painful intercourse.
WHAT KINDS OF GYNECOLOGIC CONDITIONS CAN CAUSE PAIN DURING SEX?
Pain during sexual intercourse can be a warning sign of many gynecologic conditions. Some of these conditions can lead to other problems if not treated:
Skin disorders—Some skin disorders may result in ulcers or cracks in the skin of the vulva. Contact dermatitis is a common skin disorder that affects the vulva. It is a reaction to an irritating substance, such as perfumed soaps, douches, or lubricants. It may cause itching, burning, and pain. Treatment of skin disorders depends on the type of disorder.
Vulvodynia—This is a pain disorder that affects the vulva. When pain is confined to the vestibule (the area around the opening of the vagina), it is known as vulvar vestibulitis syndrome (VVS). There are many treatments available for vulvodynia, including self-care measures. Medication or surgery may be needed in some cases.
Hormonal changes—During perimenopause and menopause, decreasing levels of the female hormone estrogen may cause vaginal dryness. Hormone therapy is one treatment option. Using a lubricant during sex or a vaginal moisturizer also may be helpful.
Vaginitis—Vaginitis, or inflammation of the vagina, can be caused by a yeast or bacterial infection. Symptoms are discharge and itching and burning of the vagina and vulva. Vaginitis can be treated with medication.
Vaginismus—Vaginismus is a reflex contraction (tightening) of the muscles at the opening of your vagina. Vaginismus may cause pain when you try to have sexual intercourse. Vaginismus can be treated with different forms of therapy.
Childbirth—Women who have had an episiotomy or tears in the perineum during childbirth may have pain during sex that may last for several months. Treatments include physical therapy, medications, or surgery.
Other causes—Pelvic inflammatory disease, endometriosis, and adhesions are all associated with pain during sex.
WHAT CAN I EXPECT WHEN I SEE MY HEALTH CARE PROFESSIONAL ABOUT PAIN DURING SEX?
Your medical and sexual history, signs and symptoms, and findings from a physical exam are important factors in determining the cause of your pain. Sometimes, tests are needed to find the cause. A pelvic exam or ultrasound exam often gives clues about the causes of some kinds of pain. Further evaluation, sometimes involving a procedure called a laparoscopy, may be needed.
You also may be asked about medications that you are taking, whether you have any medical conditions, and past events that may affect how you feel about sex, such as sexual abuse. Other health care professionals may be consulted for further evaluation and treatment, such as a physical therapist or a dermatologist (a specialist in diseases of the skin).
ARE THERE THINGS A WOMAN CAN DO ON HER OWN TO HELP WITH PAIN DURING SEX?
If you have pain during sex, see an ob-gyn or other health care professional. There also are some self-help measures you can try to relieve pain during sex:
Use a lubricant. Water-soluble lubricants are a good choice if you experience vaginal irritation or sensitivity. Silicone-based lubricants last longer and tend to be more slippery than water-soluble lubricants. Do not use petroleum jelly, baby oil, or mineral oil with condoms. They can dissolve the latex and cause the condom to break.
Make time for sex. Set aside a time when neither you nor your partner is tired or anxious.
Talk to your partner. Tell your partner where and when you feel pain, as well as what activities you find pleasurable.
Try sexual activities that do not cause pain. For example, if intercourse is painful, you and your partner may want to focus on oral sex or mutual masturbation.
Try nonsexual, but sensual, activities like massage.
Take pain-relieving steps before sex: empty your bladder, take a warm bath, or take an over-the-counter pain reliever before intercourse.
To relieve burning after intercourse, apply ice or a frozen gel pack wrapped in a small towel to the vulva.
INFORMATION FROM ACOG
Perimenopause
The gradual transition between the reproductive years and menopause (the cessation of menstrual periods) is called perimenopause (literally meaning "around menopause"). It is generally a transition that is many years long and can be associated with shorter menstrual intervals, irregular menses, night sweats, and other symptoms. In some women, these symptoms are troublesome enough to need medical intervention.
Most women experience menopause between ages 40 and 58. The average age is 51.
Physical changes begin years before the final menstrual period. This transition phase is called perimenopause and may last for 4 to 8 years. It begins with changes in the length of time between periods and ends 1 year after the final menstrual period.
INFORMATION FROM THE NORTH AMERICAN MENOPAUSE SOCIETY
Sexual Problems
WHAT CAUSES SEXUAL PROBLEMS IN WOMEN?
Some common causes of sexual problems in women include the following:
Aging—A woman's libido (another term for interest in and desire for sex) and sexual activity sometimes decrease with age. This decrease is normal and usually is not a cause for concern, but problems can arise if one partner in a relationship desires sex more often than the other.
Hormonal changes—Changes in hormones at certain times of a woman's life may cause changes in her interest in or response to sex. For example, decreased estrogen levels (such as during perimenopause and menopause) may cause vaginal dryness and lead to pain during intercourse.
Stress and anxiety
Relationship problems
Illness, including depression
Past negative sexual experiences
WHAT ARE THE TYPES OF SEXUAL PROBLEMS THAT AFFECT WOMEN?
"Female sexual dysfunction" is a general term for a problem with interest in or response to sex. Sexual problems fall into four groups, which often overlap:
Desire problems
Arousal problems
Orgasmic problems
Sexual pain disorder
WHAT ARE DESIRE PROBLEMS?
Lack of desire is the most common sexual concern reported by women. A lack of desire before having sex is normal for some women. They may not feel that they want to have sex until they begin to engage in sexual activity and become aroused. A lack of desire is considered a disorder when a woman
does not want to engage in any type of sexual activity, including masturbation
does not have (or has very few) sexual thoughts or fantasies
is worried or concerned about these issues
WHAT ARE AROUSAL PROBLEMS?
Arousal is the name given to the physical and emotional changes that occur in the body as a result of sexual stimulation. Arousal can be affected by many things, including medications, alcohol, smoking, illegal drug use, and medical conditions. Anxiety, stress, problems with your partner, and past negative sexual experiences also can cause arousal difficulties.
WHAT ARE ORGASMIC PROBLEMS?
Not having an orgasm during sexual activity may not be a problem. Sharing love and closeness without having an orgasm is satisfying for many women. Other women may feel that not having an orgasm is a problem. They may want to find a solution.
Women with orgasmic disorders may never have had an orgasm from sexual encounters, or they may have had orgasms at one time but no longer have them, despite healthy arousal. The intensity of orgasm may have decreased, which can occur with age.
Orgasmic disorder may be caused by a poor body image or a fear of losing control. It also may occur when a woman does not trust her partner. It is common for women who do not have orgasms to have arousal problems.
WHAT IS SEXUAL PAIN DISORDER?
Painful sex may be a lifelong or short-term condition. Pain that occurs during sexual activities other than intercourse is called "noncoital sexual pain disorder." Pain during intercourse is called dyspareunia. Most sexually active women have had pain during sex at some point in their lives. If it occurs often or is severe, a woman should see her health care professional.
CAN CERTAIN SUBSTANCES AFFECT SEXUAL RESPONSE?
Smoking, alcohol, and drugs can affect sexual response for both women and men. Smoking can slow down blood flow in the sexual organs and cause arousal problems. Alcohol and drugs affect how your body responds. A good first step in addressing sexual problems is to stop or limit smoking and the use of drugs or alcohol.
WHAT CAN I DO TO ENHANCE DESIRE?
Address and work toward resolving relationship concerns, stresses, and misunderstandings about sex as well as other issues that may be affecting you and your partner.
Focus less on intercourse and more on intimacy.
Improve your sex knowledge and skills.
Make time for sexual activity and focus on enjoyment and pleasuring each other.
WHAT CAN I DO TO INCREASE AROUSAL?
Be well rested.
Increase the time spent on foreplay.
Try a vaginal lubricant for dryness.
Do Kegel exercises (contract and relax pelvic muscles).
Do not smoke.
WHAT CAN HELP ME HAVE AN ORGASM?
Increase sexual stimulation.
Try sexual toys.
Use mental imagery and fantasy.
HOW CAN I MINIMIZE SEXUAL PAIN?
Try different positions or sexual activities that do not involve intercourse.
Allow plenty of time for arousal before penetration.
Use a lubricant.
Empty your bladder before sex.
Take a warm bath.
HOW CAN I ADDRESS SEXUAL PROBLEMS WITH A HEALTH CARE PROFESSIONAL?
You could start off with a statement like:
"I am having some concerns about my sex life."
"I do not enjoy sex like I used to."
"I am feeling sad lately; my partner is complaining I never want sex."
"Lately, I have been having trouble with intimacy. What can I do?"
"I am just not interested in sex. Do you have any advice?"
"Getting older has affected my love life. Is there a fix?"
WHAT SHOULD I EXPECT WHEN I VISIT A HEALTH CARE PROFESSIONAL FOR A SEXUAL PROBLEM?
You may have a physical examination and a pelvic exam. If you have pain during intercourse, your health care professional may try to re-create this pain by touch. Depending on your symptoms, you may have a blood test to measure hormone levels. You may be referred to another health care professional for other tests or specialized treatment.
WHAT SHOULD I EXPECT DURING TREATMENT OF A SEXUAL PROBLEM?
Each type of female sexual dysfunction is treated differently. Sexual problems may overlap, and treatment can be complex. Treatment may include changing existing medications or taking new medication, such as estrogen to treat vaginal dryness. If a medical problem is suspected, you may need to have treatment directed at that specific problem.
You may be referred to a sex therapist, even if you also are receiving medical treatment. Sex therapists help people work on the different aspects of sexual disorders, including the emotional, physical, and interpersonal aspects. Couples therapy may be suggested to help with interpersonal issues. Individual counseling may help build sexual confidence by helping you understand how past experiences may be affecting your current sexuality.
INFORMATION FROM ACOG
Vulvodynia: What is it?
Vulvodynia, simply put, is chronic vulvar pain without an identifiable cause. The location, constancy and severity of the pain vary among sufferers. Some women experience pain in only one area of the vulva, while others experience pain in multiple areas. The most commonly reported symptom is burning, but women's descriptions of the pain vary. One woman reported her pain felt like "acid being poured on my skin," while another described it as "constant knife-like pain."
There are two main subtypes localized and generalized vulvodundia which, sometimes co-exist.
What Is Localized Vulvodynia?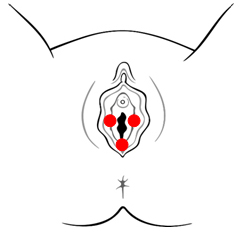 Most women have pain at only one vulvar site. If the pain is in the vestibule, the tissue surrounding the vaginal opening, the diagnosis is vestibulodynia (formerly known as vulvar vestibulitis syndrome (VVS)). (See diagram on right.)
The majority of women with localized vulvodynia have Provoked Vestibulodynia (PVD), in which pain occurs during or after pressure is applied to the vestibule, e.g., with:
sexual intercourse,
tampon insertion,
a gynecologic examination,
prolonged sitting, and/or
wearing fitted pants.
A less common form of localized vulvodynia, known as clitorodynia (pain in the clitoris), can be very painful.
PVD is further classified as primary or secondary.
Women with primary PVD have experienced vestibular pain since the first attempt at vaginal penetration.
Women with secondary PVD have experienced pain-free sexual intercourse prior to the development of vulvar pain.
What Is Generalized Vulvodynia?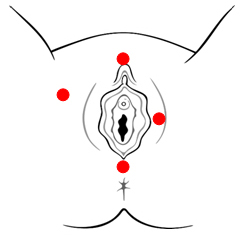 For women with generalized vulvodynia (GV), pain occurs spontaneously and is relatively constant, but there can be some periods of symptom relief.
Activities that apply pressure to the vulva, such as prolonged sitting or sexual intercourse, typically exacerbate symptoms.
INFORMATION FROM THE NATIONAL VULVODYNIA ASSOCIATION
Vulvodynia: Causes, Diagnosis, and treatment
Vulvodynia is not caused by an active infection or a sexually transmitted disease. Through continued research efforts, we move closer to discovering the underlying cause(s) of vulvodynia. Researchers speculate that one or more of the following may cause, or contribute to, vulvodynia:
An injury to, or irritation of, the nerves that transmit pain from the vulva to the spinal cord
An increase in the number and sensitivity of pain-sensing nerve fibers in the vulva
Elevated levels of inflammatory substances in the vulva
An abnormal response of different types of vulvar cells to environmental factors such as infection or trauma
Genetic susceptibility to chronic vestibular inflammation, chronic widespread pain and/or inability to combat infection
Pelvic floor muscle weakness, spasm or instability
After taking a thorough medical history and asking questions about your symptoms, your provider should carefully examine the vulva, vagina and vaginal secretions to rule out an active infection or skin disorder. Routine cultures for yeast and bacterial infections should be performed. Your provider may also recommend that you have blood drawn to assess levels of estrogen, progesterone and testosterone. He/she will likely perform a cotton-swab test (pictured on the right). During the test, gentle pressure is applied to various vulvar sites and you're asked to rate the severity of the pain. If any areas of skin appear suspicious, your provider may examine them with a magnifying instrument or take a biopsy of the area.
Because we don't know what causes vulvodynia, treatments are directed towards alleviating symptoms and usually provides moderate pain relief.  Some women experience relief with a particular treatment, while others do not respond or experience unacceptable side effects. 
No single treatment is appropriate for all women with vulvodynia and it may take time to find a treatment, or combination of treatments, that alleviates your pain.
Women with provoked vestibulodynia may be candidates for surgery. Success rates for surgery vary from 60% – 90%.
Current vulvodynia treatments include:
Discontinuation of Irritants
Oral "Pain-Blocking" Medications

Tricyclic Antidepressants
Serotonin-Norepinephrine Reuptake Inhibitors
Anticonvulsants
Opioids

Topical Medications

Topical Hormonal Creams (e.g., estrogen, testosterone)
Topical Anesthetics (e.g., lidocaine)
Topical Compounded Formulations (e.g., anticonvulsant, antidepressant)

Pelvic Floor Muscle Therapy
Nerve Blocks
Neurostimulation and Spinal Infusion Pump
Surgery (for women with Provoked Vestibulodynia)
Complementary or Alternative Medicine
INFORMATION FROM NATIONAL VULVODYNIA ASSOCIATION